Mouthguard Fittings
19th Feb 5pm - 8pm

SAFEGUARD MOUTHGUARD FITTINGS ARE BACK TO SUPPORT OUR CLUB FOR 2021
Stephen from Safeguard Mouthguards will be attending our Rego night on the 19th Feb between 5-8pm.
Look out for the signage at the Clubrooms and pop in and see Stephen for a fitting.
Below is a Patient Information sheet which can be completed in advance and brought along on the Rego night.
Stephen's Provider details are below so you can get an idea of the rebate offered by your Private Health Funds. The following details are necessary when speaking to your Health Fund:
Consult  Item # 014           $52.00
Mouthguard  Item # 151    $88.00
Total cost                         $140.00
Stephen Millar, Dental Prosthetist – Provider # 4289101B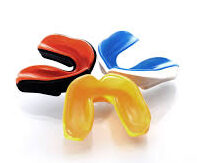 SAFEGUARD MOUTHGUARD ORDER FORM
**Please note all mouthguards will be delivered directly to the club, when they are ready you will be notified by the club.**