Kalamunda and Districts Junior Football Club are seeking registrations for Girl's only teams in 2022.
Females are still able to play in the mixed competition until year 9 but now have the option to join a girl's only team!
KDJFC has promoted AFL to juniors in Kalamunda and surrounding districts including but not limited to Lesmurdie, Walliston, Gooseberry Hill, Pickering Brook and Maida Vale. It is a highly supportive club with an emphasis is on fun, inclusion, and building lifelong friendships.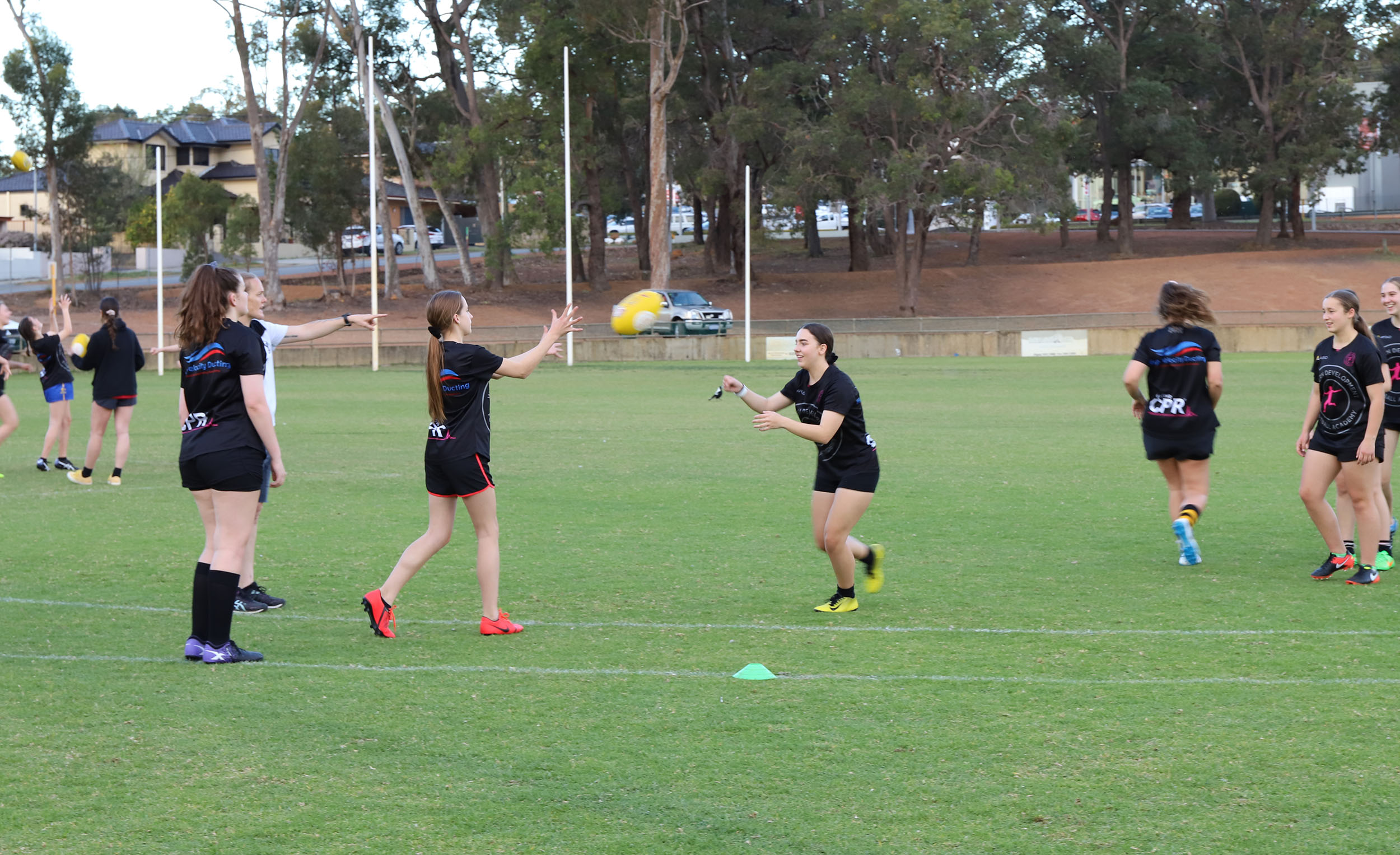 Registrations open 1st Feb 2022 for Year 3 through to Year 12. Register online here.
Playing uniforms will be included in your fees and we will be unveiling our newly designed female uniform soon.
If you have a daughter or know someone keen to play, we are still looking for players in the following year groups:
Year 3/4, Year 5/6, Year 7/8, Year 9/10, Year 11/12
No experience is necessary so whether you already play, or you've never played but would like to give it a go register online now.
We look forward to welcoming you into the Kalamunda Junior Football Club Family!
If you'd like to find out more please contact femalefooty@kdjfc.com.au
More information can be found here WOMENS AFL and Female Football Pathway and Female Football Match Guide (2019)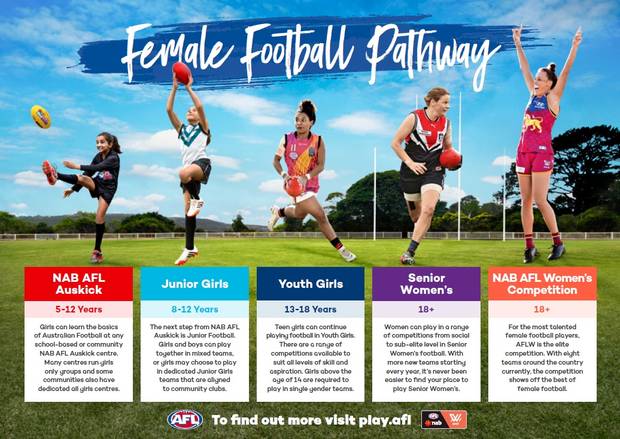 Female Participation Pathway
1.    NAB AFL AUSKICK: Ages 5-12
The NAB AFL Auskick program is the AFL's official introductory program for both boys and girls
With no tackling, modified rules and an inclusive atmosphere, Auskick is fun, safe and a terrific way to get young girls involved in the sport
To participate in the AFL Auskick program, girls must turn five in the calendar year that they register.
Junior Club football offers kids who have completed a few NAB AFL Auskick seasons the excitement of playing in a team
Rules are modified to allow kids to play in a safe, inclusive environment and allows players to experience a variety of positions on the ground from full back to full forward
The number of girls-only competitions continues to grow around the country, however girls can also play in mixed-gender teams up to the age of 14.
Tailor made for players of all abilities and aspirations, Youth Girls football is an ideal progression from either NAB AFL Auskick or junior football
Females can play in mixed-gender or girls-only teams up to the age of 14. Girls aged between 15-18 years should be participating in AFL Youth Girls competitions at U15 and U18 years using appropriate AFL Youth Girls rules3.