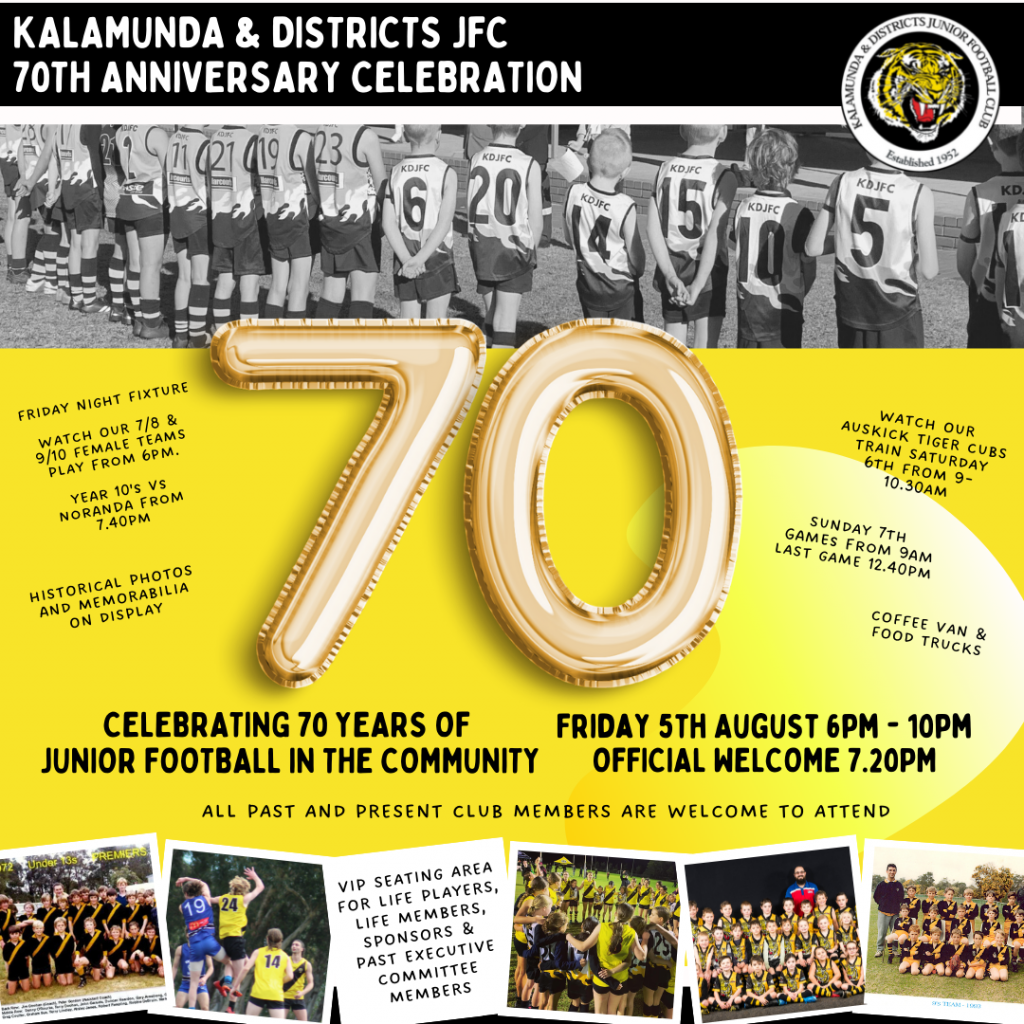 This year we celebrate 70 years of junior football in the Perth Hills community. Since the early beginnings in 1952, to now, it's been a journey and the future is bright!
During round 12 the club will be celebrating Heritage Round and our 70th anniversary, over the weekend of August 5th to 7th.
The club will be a hive of activity over the Heritage Round weekend, with Kostera Oval hosting ten home games from Friday night through to Sunday, along with our much-loved Auskick "Tiger Cubs" program running on Saturday morning.
Our official celebrations will occur on Friday 5th of August, from 6:00 pm. You are invited to come and watch our two youth female sides Year 7/8 & Year 9/10 play at 6:00 pm, followed by our youth Year 10 male side play at 7:40 pm.
The club rooms will be open with a 'Club History Museum' set up for you to enjoy looking through club memorabilia. There will also be tours of our newly renovated change rooms throughout the evening.
There will be a brief formal presentation at 7:20 pm where a few old club stories will be shared from years gone by.
Our club has been built on decades of passion and commitment by countless members and volunteers, all with the common goal of creating a vibrant and inclusive junior community football club, for our children and youth to enjoy and thrive.
If you have any memorabilia that you can loan the club for this event, please get in touch with Adeline on the details below or Mike Perry.
Please RSVP your attendance to our Heritage Round Event Coordinator, Adeline Calcott, via email or phone call by Monday 1 August 2022 – events@kdjfc.com.au– mobile – 0411 397 227. 
HERITAGE ROUND CLUB FIXTURES
Friday 5 August 2022
6:00 pm
Kalamunda Year 7/8 Female Vs Bayswater Year 7/8 Female
Kalamunda Year 9/10 Female Vs Vic Park Year 9/10 Female
7:40 pm
Kalamunda Year 10 Vs Noranda Year 10
Saturday 6 August 2022
9:00 am – 10:30 am
Auskick – Come and check out all the budding talent of our youngest club members aged 5 to 7 years.
Sunday 7 August 2022
9:00 am
Kalamunda Year 3 Gold Vs High Wycombe Year 3 Blue
Kalamunda Year 3 Black Vs Mundaring Year 3
Kalamunda Year 4 Gold Vs Bassendean Year 4
10:40 am
Kalamunda Year 4 Black Vs Chidlow Year 4
Kalamunda Year 5 Gold Vs Gidgegannup Year 5
Kalamunda Year 6 Black Vs Swan View Year 6
12:40 pm
Kalamunda Year 9 Vs Manning Year 9 Maroon
We look forward to sharing this special weekend with everyone who has been a part of the Kalamunda Tiger's family.
Kind regards,
Suellen Howlett
KDJFC President
president@kdjfc.com.au
0421 367 129